Seven months ago, I became that which I swore I would never become.
I became… an IT guy.
No more flat hats, no more marmots, no more deer, no more terrifying hikes into the woods with god knows what lurking just out of view, waiting to be all naturey up in my business.
Which, actually… Good job, me!
The thought was that a desk job fixing computers would be more up my alley, but I didn't fully consider one key element:
The End User.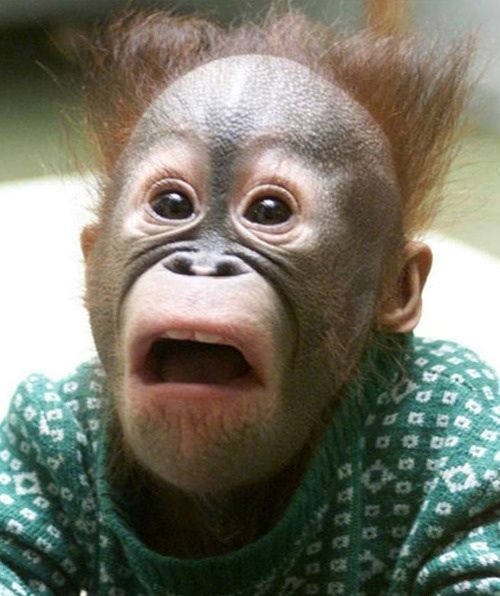 An artist's representation of a typical End User.
Sweet baby Jesus, why did nobody tell me they were really, really for serious when they warned me about The End User?
When I was but a wee lad, and my mother needed help with the computer, I could never understand why she just didn't just "get it". I would say "double click that icon" and she would say "What icon." I would point with my pointiest finger to the only icon on the screen, and say "That icon." She would then say "I can't double click," and I would say nothing, because I would have left the room in a bitter rage at that point.
One time, my mother called me because she couldn't figure out how to load up the Internet on my father's new iPad. She said "A screen is open." I instructed her to "press the button on the screen," to which she replied "what button." I said "The only button." She replied "I don't see it. There is no button." I said "There is literally one button on the entire device. Please press it." Her response was "I don't understand this thing."
This went on for some time.
Eventually, she gave up, and after things cooled down between us, we had a summit and spoke of The iPad Incident in person. At this point, I was contemplating a career switch into something that didn't feature bloodthirsty marmots and the word "seasonal." My mother, as wise as she is challenged at operating anything remotely in the vicinity of a circuit board, warned me that the world was full of people like her. People who struggled to turn the TV on. People who forgot that thing you told them about how to attach a picture to an email three seconds before you told them. I didn't believe her, because the world ran on technology, and surely we would all be dead if the world was as she said it was.
In retrospect, her warning was a lot like when the creepy old gas station owner in a horror movie warns the fresh-faced group of kids not to go to the cabin, but they do anyway because THEY GOT THIS. Then they all die in a variety of horrible, creative ways, while the audience is like "shoulda listened to the old dude."
Shut it, old man, what do you know!
Well, Helpdesk is a lot like that, except worse, because you don't die in the end.
My first two weeks on the job, I was tasked with sifting through 100's of old tickets and asking End Users "is this problem persisting? Love, Garet" and then most would reply "No," or "Not recently" or "Maybe," which I decided on my own private ambition was code for "No."
A graphical representation of why most End Users call in to Helpdesk.
So that closed a lot of tickets, and the company loved me for closing tickets, so they hired me full time. But now I was left with a pile tickets where people didn't say "No" or anything that could be twisted into a translation for "No" should somebody ask me why the ticket was closed. I now had a bunch of tickets where people said "Yes."
Crap.
So then they gave me a headset, and I had to start calling people. Oh, and by the way, the bulk of the sales staff you're supporting is middle aged women just like your mom kthnx!
Dear. Lord. In. Heaven. Why.
So I started calling these regionally-accented incarnations of my mother, and after a few weeks of that, the company had them start calling me, and that was just the worst. I'll spare you the classic scenarios of incompetence that I encountered, but basically, it was The iPad Incident all day every day, interrupted by people who couldn't double click and really needed me to do it for them right now THIS IS CRITICAL TO MY JOB. I will now describe the general state of the world to you:

Susan, let's go ahead and delete these business-critical files and then immediately download twenty gigabytes of pictures from your personal camera to confirm that any deleted file has been thoroughly overwritten. Then let's synergize and report it to Techsupport next month sometime because those files are absolutely critical to your day-to-day -job function.
We should, in fact, all be dead. Skynet should have overwhelmed us decades ago, enslaving us to do their nefarious bidding. The businesses of the world are run by people who make my mother look like IBM's R&D department. Then in the back room, you have people who sort of understand this shit holding it all together with duct tape and asking each other how to fix some piece of crap server running Windows Stone Age that nobody knew existed five seconds ago because hell if I know, that's a weird one!
Anyway, I'd like to end this by thanking my mother for her inability to find the only button on an iPad for over ten minutes, because little did I know what valuable training she was providing me. Forget my B.S. – my higher education came from being Mom's Techsupport and learning to weave my angry frustration into something that could be misconstrued as a smile.
I'm just going to go ahead and download this crytolocker virus because f**k it.
Thanks, Mom. Thanks a lot.